Do you desire a beautiful landscape, but you don't like the idea of constant watering to keep it alive? We have a solution. Xeriscaping means landscaping with plants and elements that require little to no water. Our professional landscapers know how to create amazing xeriscapes from drought-tolerant plants that thrive in your Black Forest, Colorado climate. We also use boulders, stone pathways, gravel, patios, bridges, and benches to bring beauty and interest to your xeriscape. Consider the advantages of xeriscaping around your outdoor living area or around a water feature. Front yards and backyards both benefit from a professionally-installed xeriscape. Jake's Designs has a deep knowledge of low-water landscapes, making us your go-to landscaping company for any type of xeriscape.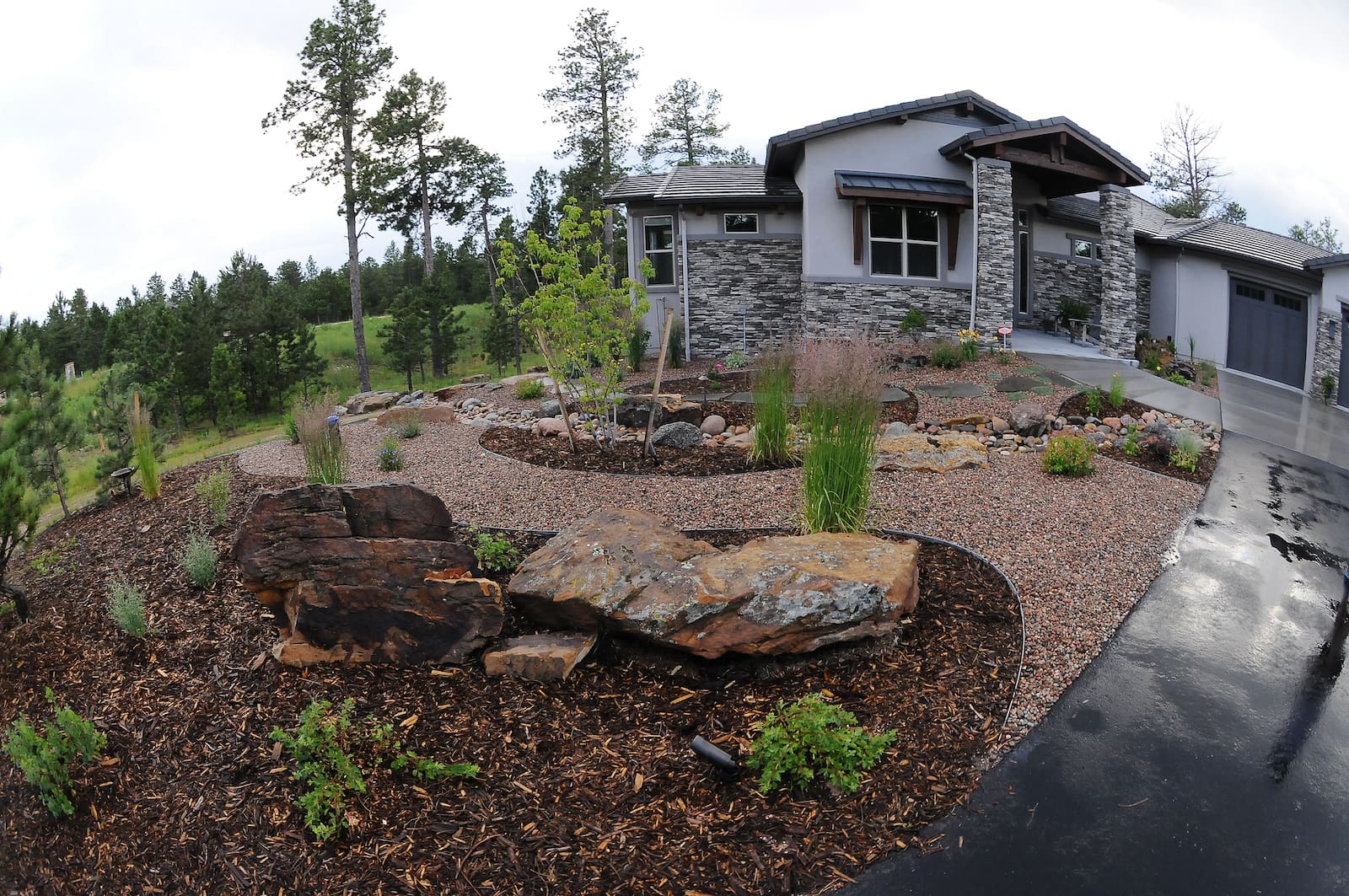 Since our landscaping approach naturally leans toward sustainable methods, xeriscaping is something we do particularly well. Other eco-friendly methods we employ include recycling our excess landscaping materials and donating usable materials to people or places that will make good use of them.
Rely on Jake's Designs to transform your Black Forest, Colorado outdoor areas with professional landscaping. We are a local company offering expert services that are personalized to your individual property. Keep reading to learn more about xeriscaping.
Satisfied Customers Help Us Build a Reputation for Landscaping Excellence
See why our customers trust us with their outdoor spaces and professional landscape design.
How a Xeriscape Can Improve Your Home Landscape
Each xeriscape we design and build is customized to suit the needs of the property and the preferences of the homeowner. Consider the ways a xeriscape from Jake's Designs can benefit you:
Better water retention and smart irrigation

Long-term savings on your water expenses

Many types of drought-resistant plants, grasses, and shrubs to choose from

Hardy plants and blooms last longer

Minimal landscape maintenance required

Live more sustainably
The arid Colorado climate has unique challenges that make it difficult to keep landscapes looking fresh. That is one reason why xeriscaping is such a smart landscaping solution. Not only does it incorporate the types of plants that grow deep and thrive in our climate, it also makes it possible to use less water when irrigating. Your xeriscape design may include the following elements:
Irrigation and drip feeds

Efficient turf layouts

Soil preparation and mulch

Native, low-water, and drought-resistant plants and grasses

Rocky river bed designs, rock plantings, and stonework
We follow a defined landscaping process to get stunning, personalized results. We have been pleasing customers for years with beautiful, long-lasting xeriscapes.
Creative Xeriscaping in Black Forest, CO and Nearby Communities
Our xeriscapes are each unique and wonderful, never boring or dull. We offer creative xeriscape designs that complement your unique property. See more of our handiwork in our online galleries.
A Proven Process to Ensure You Get High-Quality Results
Our seven-step process focuses on your wishes for the outdoor space so you can enjoy a custom retreat just outside your backdoor.
Contact us by calling our front office or filling out our online contact form. We'll contact you within 24 hours.
All Our Landscaping Services Can Be Personalized to Meet Your Needs
Jake's Designs is the area's most trusted landscape contractor. We are known for our exceptional customer service and our comprehensive start-to-finish process. Our award-winning team works with homeowners to deliver high-quality landscaping design and construction. Here are some of the other landscape design services we offer:
Retaining Walls — Colorado's challenging terrain sometimes requires the building of retaining walls. Jake's Designs uses state-of-the-art techniques to build retaining walls that are as beautiful as they are functional.
Landscape Drainage — Smart landscaping often includes finding solutions to property drainage issues. The experts at Jake's Designs are able to analyze and address potential problems with attractive results.
Landscape Lighting — Professionally-installed landscape lighting lets you take full advantage of your outdoor living spaces even after the sun goes down.
Check out more of what we have to offer on our services page. Let us know how we can help you meet your landscaping goals by contacting us today!
We Proudly Serve Black Forest, CO and Nearby Areas
Get on Board with One of Our Available Positions
At Jake's Designs, we're committed to delivering the highest quality services for homeowners in the Colorado Springs, Colorado area and surrounding neighborhoods. If you are looking for landscaping jobs and can commit to the highest quality and customer-focused culture, consider applying for one of our many opportunities!
To learn more, visit our careers page or contact us at (719) 271-2584.
Talk to an Experienced Landscaper About Creating a Xeriscape on Your Property
Xeriscaping is an attractive form of landscaping because it is beautiful, requires very little maintenance, and saves precious water resources. If you want to discuss the possibility of xeriscaping your home landscape in Black Forest, Colorado, give us a call, or fill out our online form. We will listen to your ideas, learn more about your property, and help you determine if our xeriscaping services are right for you. Trust our experienced landscaping company to make the entire process easy for you from start to finish.
Ready To Get Started On Your Dream Landscape?