All the Luxury and Comfort You Desire from a Landscaping Company You Can Trust
Grandwood Ranch, located in beautiful Monument, Colorado, is steeped in natural beauty. Your home in Grandwood Ranch should reflect the landscape as well as your personal tastes. Jake's Designs makes it possible to have a comfortable outdoor retreat that looks amazing and blends in with your home and surroundings. Imagine yourself cooking in your personalized outdoor kitchen, relaxing with friends and family around a cozy built-in fire pit, and entertaining on a beautiful patio. The local experts at Jake's Designs can make it all happen, and more! Let your imagination soar. We have the creativity and skills to design and build the outdoor oasis you've always wanted.
Feel good about our company's focus on sustainable landscaping. Just because it is made with high-quality materials and full of luxurious outdoor living features, doesn't mean it is bad for your environment! We care deeply about the Grandwood Ranch community and surrounding areas because we are a local landscape contractor with a passion for making a positive difference in our outdoors. Your outdoor living area will be built durable for years of use in our Colorado climate.
Satisfied Clients Share Why They Love Our Craftsmanship
See why our customers trust us with their outdoor spaces and professional landscape design.
Our outdoor living creations are composed of many different elements. We design and build each outdoor area to suit the property and the homeowner's needs and wants. Which of the following features would look great in your backyard?
Patio.

Whether it is made of flagstone, concrete, wood, or a composite of various materials, your custom made patio will complement your home and add outdoor living space to your property. Consider a patio that is raised, multi-level, or a sunken deck.

Outdoor kitchen.

Cooking outdoors adds more excitement to every meal. A personalized outdoor kitchen makes it easy to grill and prepare every aspect of the meal. When you're finished, wash your dishes in a built-in sink or dishwasher.

Dining and entertaining areas.

Like to entertain? Then you should ask for a spacious outdoor entertaining area. Even if your parties consist of you and a loved one, we can still create the perfect-sized dining spot where you eat under the blue Colorado sky.

Custom fire pit or fireplace.

Cozy up to a crackling fire in your built-in fire pit or fireplace.

Outdoor pizza oven.

Enhance your outdoor kitchen or grill with an outdoor pizza oven, made to prepare delicious pizzas as well as other dishes.

Outdoor lighting.

Feel safe in your outdoor retreat all day and night with professionally-installed outdoor lighting.

Privacy features.

Shade elements or natural privacy features help you feel more comfortable in your outdoor living area.

Pergolas and other shade structures.

Add more interest to your outdoor area with an architectural structure that looks amazing and adds shade.

Water features.

Relax in a natural spa, enjoy the soothing movements and sounds of a waterfall, or create your own backyard pond and stream.

Children's play areas.

Safe outdoor playtime is a must for any parents or grandparents who have small children at home.
Gather Ideas from Outdoor Living Areas in Grandwood Ranch and Other Nearby Communities
Your vision of your outdoor area is very personal, but that doesn't mean you can't become inspired by other beautiful outdoor retreats! Check out our gallery for more landscape ideas. 
Our Professional Process Takes You From Start to Finish with Ease
Our seven-step process focuses on your wishes for the outdoor space so you can enjoy a custom retreat just outside your backdoor.
Contact us by calling our front office or filling out our online contact form. We'll contact you within 24 hours.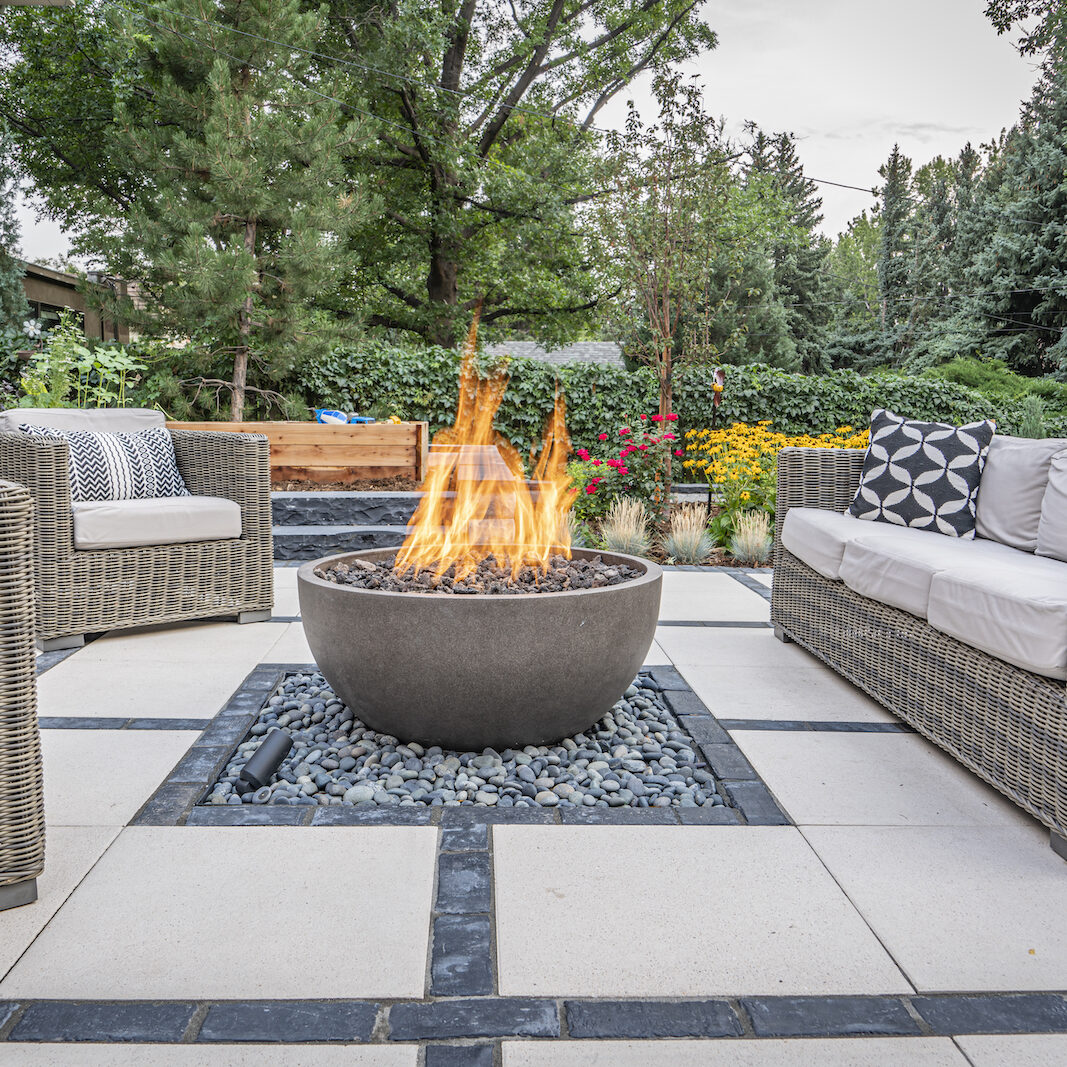 More Valuable Landscaping Services for Homeowners in Grandwood Ranch
Jake's Designs is the Grandwood Ranch area's most trusted landscape contractor. We are known for our exceptional customer service and our comprehensive start-to-finish process. Our award-winning team works with homeowners to deliver high-quality landscaping design and construction. Here are some of the other landscape design services we offer:
Retaining Walls — Colorado's challenging terrain sometimes requires the building of retaining walls. Jake's Designs uses state-of-the-art techniques to build retaining walls that are as beautiful as they are functional.
Landscape Drainage — Smart landscaping often includes finding solutions to property drainage issues. The experts at Jake's Designs are able to analyze and address potential problems with attractive results.
Landscape Lighting — Professionally-installed landscape lighting lets you take full advantage of your outdoor living spaces even after the sun goes down.
Check out more of what we have to offer on our services page. Let us know how we can help you meet your landscaping goals by contacting us today!
Begin a Fresh Career in Landscaping with Jake's Designs
At Jake's Designs, we're committed to delivering the highest quality services for homeowners in the Colorado Springs, Colorado area and surrounding neighborhoods. If you are looking for landscaping jobs and can commit to the highest quality and customer-focused culture, consider applying for one of our many opportunities!
To learn more, visit our careers page or contact us at (719) 271-2584.
Let's Get Started on Your Personal Outdoor Retreat
Your outdoor living area could be big, small, full of luxurious features, focused around one key element, or simple and elegant. Let us know what you have in mind, and we will come up with a design plan to make it happen! At Jake's Designs, we are dedicated to helping others live more of their lives outdoors. Contact us for more information and to request an estimate. 
Ready To Get Started On Your Dream Landscape?