Each member of the team at Jake's Designs takes pride in delivering the highest-quality landscaping design, architecture, and construction services in Colorado Springs, Colorado. We are delighted to work with clients to help them define their landscaping goals and then transform their residential property to exceed those dreams.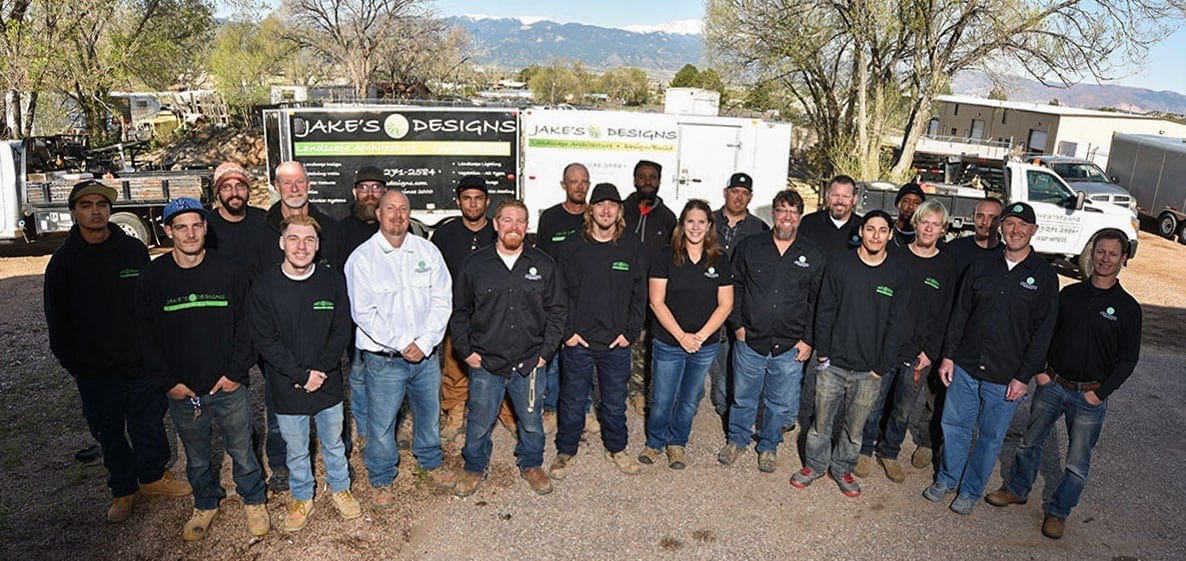 As landscape contractors since 2000, Jake's Designs has created the most beautiful, exciting, and unique landscapes for hundreds of clients.
Jake's Designs is an award-winning landscape contractors company, based in Colorado Springs, Colorado specializing in high-end landscape transformations. Our team works with clients using a proven process to explore the almost limitless possibilities of landscape renovation.
Clients can expect services that are unmatched by other landscape contractors. Working with the Jake's Designs landscaping team is an almost effortless endeavor that results in an expanded living environment that is both beautiful and functional as individuals and family life evolves. We nurture a culture of excellence in every job we do.
Our Mission
Jake's Designs mission is to provide an exceptional client experience, while also providing our Colorado Springs, CO team with a consistent, safe, family environment for them to work in.
Jake Harris
President – (719) 271-2584 ext 4 – jake@jakesdesigns.com
Jake Harris founded Jake's Designs in May of 2000 upon graduating Colorado State University with his degree in Landscape Architecture.  Like many landscape contractors, Jake started his company on a shoestring budget and has carefully grown it into what it is today - the best landscape company in Colorado Springs.  Jake's mission at Jake's Designs is to provide an exceptional client experience, along with providing his employees with a consistent, safe family environment for them to work in.
Apart from running Jake's Designs, Jake enjoys everything the Colorado outdoors has to offer and can often be found hiking, mountain biking, snowboarding, or fishing.  Jake has been married to his wife, Dianna, since 2002. Dianna is an educator in District #38 - the district that both Jake and Diana graduated high school from. Jake's pride and joys of his life are his 2 sons, Cole (10) and Tyler (8).  Jake enjoys teaching them ins-and-outs of being a man.
Lastly, Jake has an immense passion for youth.  He advocates this passion through coaching multiple sports that his sons play, as well as, serving as the offensive line coach for Palmer Ridge High School football team (2017 3A state champs).
Dani Ewan
Designer/Estimator – (719) 963-4315 – dani@jakesdesigns.com
A native to Kansas, Dani received a Bachelor of Science degree in Landscape Design and Horticulture from Kansas State University.   After graduation, Dani moved to Colorado and began her landscape career. Dani worked as a renovation garden designer for a renowned residential landscape construction firm in the mountains of the Vail Valley in Colorado.  In Vail, she worked alongside well-respected landscape architects, creating award-winning planting beds that exhibited the idea of "living art". Dani came on board with Jake's Designs in 2012 and has enjoyed working on the Front Range with a team that is constantly growing and improving in creating some breathtaking landscapes.  Dani creates her designs with the intent to lure you outside to enjoy the beautiful Colorado weather in a setting that is just as comfortable as the inside of your home. She is passionate about creating innovative outdoor living spaces that are both timeless and unique to every client.
Dani is the mother of two, Ansel and Heidi, and has been married to her husband, Nathan, since 2013. Dani loves heading into the backcountry with her family, hiking, and camping in the summer months and playing in the snow in the winter months.  She loves spending time visiting her family cabin near Creede, Colorado and listening to live music.
Angela Jacobsen
Designer – (719) 334-3225 – angela@jakesdesigns.com
A Colorado Springs native, Angela graduated with honors in 2013 from UCCS, during her time there she studied art abroad in London, England. She holds a Bachelors of Arts and Science degree with an emphasis in Fine Arts. Her photography, installation pieces and paintings have been displayed in various galleries around Manitou Springs and downtown Colorado Springs.
Angela joined the team at Jake's Designs in 2017 as a landscape installer. While in the field, Angela developed the ability to install all the different landscape elements Jake's Designs is known for, bringing each design to life alongside of her coworkers. Her artistic background and attention to detail really shined and was shown through the elegant landscapes she helped build.
In 2020 Angela combined the knowledge she obtained during her years of installing with her artistic background and stepped into landscape design. Through her training from her coworkers along with her knowledge of how things are built from working in the field, she has shined. Angela is devoted to listening to each client's unique goals and inspiring them through Jake's Designs unique process.
Angela has an 8 year old son that undoubtedly holds the key to her heart and spends as much time with him as possible. When her free time permits, she enjoys reading, painting, puzzling and cooking.
Matthew Mobley
Construction Manager – (719) 492-8110 – matthew@jakesdesigns.com
Matthew was born in Stuttgart Germany and grew up on a small horse ranch in Ellicott Colorado. He now lives in Falcon, Colorado with is wife, Michelle, and three kids, Quentin, Vivian and Cash. Matthew enjoys coaching little league sports, hunting, camping, fishing, four wheeling and enjoying the great outdoors with his family and friends.
Matthew has been working in the landscape industry for 19 years, the last 17 years with Jake's Designs.
Nathan Spence
Project Manager – (719) 334-3225 – nate@jakesdesigns.com
Nathan is a Texas native, a family man, and constant worker. He moved to Colorado in 2004, and jumped head first into the Colorado lifestyle. He has been avid in snowboarding, rock climbing, fishing, hunting, and spending time in this great state. He loves spending time with his family. He has been married for 5 years to his wonderful wife, Kirbi, and has a 4 year old son named Bruce (who just happens to be tougher than his Dad). Nathan and Kirbi are also expecting a new little one!
At work, Nathan is dedicated to ensuring the clients' landscape experience goes exactly as planned, while having a full understanding that each client has different needs. Nathan is committed to customer service and exceptional landscape installs. Nathan has been working with Jake's Designs for 8 years, and has outdoor work experience with Falcon water district D49 as a ground technician. He has also worked for various fence and construction companies and promises to use all of this great work experience to better your landscape.
We take a sustainable approach to every project, donating usable materials and recycling excess materials. We are proud to help make Colorado Springs a more beautiful area in which to work and live. For inspiration, have a look through our gallery of projects! We serve Colorado Springs, Broadmoor area, Chipita Park, Cheyenne Mountain, Black Forest, Flying Horse, Monument, Rockrimmon, and surrounding areas in Colorado Springs.
Call Jake's Designs at (719) 271-2584 or contact us! Or upload photos  of your current landscape or yard. Tell us about the kind of landscape design you want to achieve. As your local landscape designer, we make the process smooth, so you can realize an enhanced outdoor living space for decades to come!
We Aim For Complete Customer Satisfaction
See why our customers trust us with their outdoor living spaces and professional landscape design.
In an effort to help people learn how to reduce their water use and shrink the areas where turf grass exists, Colorado Springs Utilities, in conjunction with Jake's Designs, built the Xeriscape Demonstration Garden. The garden shows examples of how properties can be transformed to something beautiful and waterwise.
"From unbeatable landscape experience to dedicated project managers to warranty-backed work, we delight our customers every day with landscape design expertise and service."
Landscaping Jobs at Jake's Designs in Colorado Springs, CO
At Jake's Designs, we're committed to delivering the highest quality services for homeowners in the Colorado Springs, Colorado area and surrounding neighborhoods. If you are looking for landscaping jobs and can commit to the highest quality and customer-focused culture, consider applying for one of our many opportunities!
To learn more, visit our careers page or contact us at (719) 271-2584.