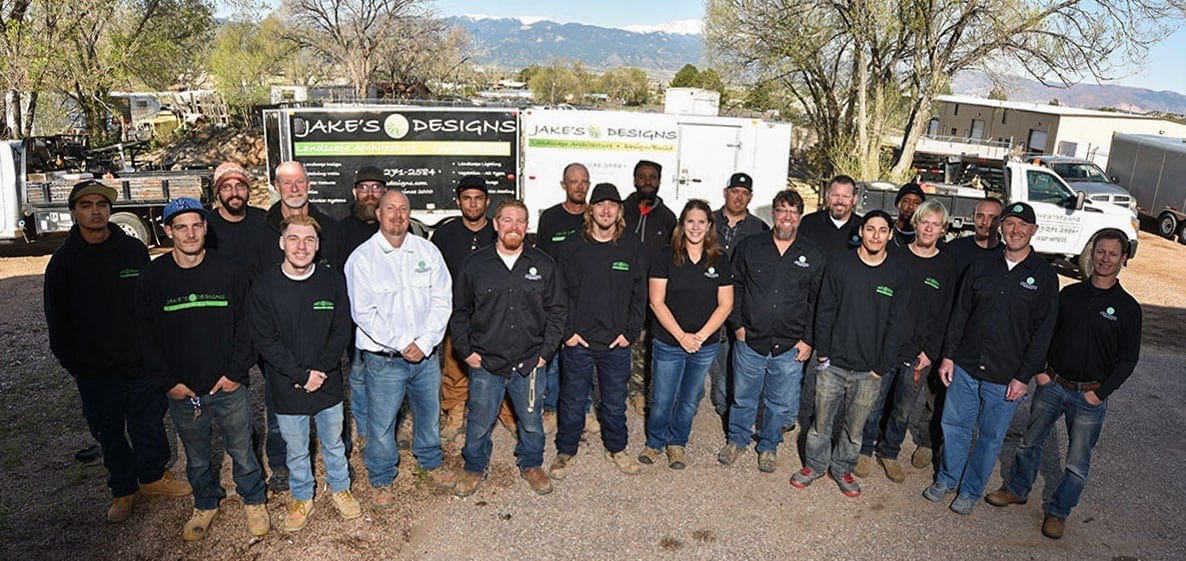 The professional team at Jake's Designs is committed to delivering the highest quality landscape design, architecture, and construction possible for residents and homeowners in the Colorado Springs, Colorado area and surrounding neighborhoods. If you are looking for landscaping jobs and can commit to the highest quality and customer-focused culture, consider applying for one of our many opportunities!
Because of the demand for our services, we are regularly looking for qualified personnel to fill our landscaping jobs. Openings occur year-round as we continue to grow and add clients. We currently have a range of landscaping jobs including:
Field Employee / Landscape Installer
We are especially interested in landscapers, craftsmen, and technicians with experience, however we are open to considering professionals in the Colorado Springs, Colorado area that can demonstrate the following skills:
Landscape and construction experience
Technical knowledge of landscaping, irrigation, hardscape, and softscape installation
Education in project management, landscape, horticulture or related field depending on the role
Motivated and customer-oriented individuals
Commitment to the highest quality standards
Outstanding work ethic, integrity, and positive attitude
Emphasis on safety, job-specific training, and professional skill development
Clear client communication and ability to gain the trust and respect of clients
Clear internal communications with project manager and other staff
Dedication to high-quality work and to exceed client expectations
Valid driver's license
Presentable appearance and communication skills with highly affluent people
Ability to work in a team environment
Possess creativity, enthusiasm, and a willingness to learn
If you are energetic, customer-friendly, and have a winner's attitude to success through the highest quality of work, we'd like to hear from you. Jake's Designs offers rewarding career opportunities, a family-friendly working environment, clear internal communications, and opportunity to advance within the organization. Our Colorado Springs, CO team goes above-and-beyond for each other and clients.
To apply for landscaping jobs at Jake's Designs, contact us at (719) 271-2584.
"From unbeatable landscape experience to dedicated project managers to warranty-backed work, we delight our customers every day with landscape design expertise and service."