Get an Outdoor Space that You Will Enjoy for Years to Come
Your home in Kissing Camels, Colorado is already in a great location. Now it's time to make it as beautiful and inviting as you have always dreamed it would be! A professional landscape designer from Jake's Designs can transform your outdoor areas. We listen carefully to what you want and design a sustainable landscape that works well with your unique property. We have over 20 years of experience as high-quality landscape designers, and we can use that experience to your advantage.
Imagine your home landscape with interesting and durable hardscaping features, such as stone walkways, custom patios, and a built-in fire pit. Your outdoor living area can be surrounded by natural beauty, using environmentally-friendly plants that will thrive in your yard and require little to no maintenance. We can also design and build a stunning water feature, such as a bubbling fountain, a natural spa, or a peaceful garden pond. We take care of every detail, from a professionally-designed landscape lighting setup to privacy features that give your backyard the look and feel of a private resort. Whatever you choose for your landscape, we'll make sure it functions well for years of enjoyment.
A landscape designer from Jake's Designs will work with new home construction projects as well as  older homes in need of a landscape makeover. When the design is planned out to your satisfaction, we can move seamlessly into our high-quality installation phase.
Your Satisfaction is Our Priority
See why our customers trust us with their outdoor spaces and professional landscape design.
Check Out These Benefits of a Personalized Landscape Design from Jake's Designs
Choosing Jake's Designs for your landscape design means you get exceptional customer service throughout your project. Our process brings you strategically from start to finish with established timelines and pricing. Because our team has so many years of experience in the landscape design industry, we can offer you a wide range of landscaping elements to choose from, including:
Xeriscaping for low maintenance, sustainable landscapes

Lawns, trees, gardens, and plant placement

Hardscaping, including stone walls, walkways, patios, and more

Water features, such as koi ponds, streams, and waterfalls

Drainage and irrigation solutions to meet your property's needs

Outdoor living areas equipped with outdoor kitchens, custom patios, and more

Fire features, such as fire pits and fireplaces

Privacy features

Play areas for the kids

High-end entrance areas for increased curb appeal
Enjoy the benefits of working with a landscape designer who can add whatever feature you like to the design, including challenging elements and special requests. We aim to deliver results that are even better than you imagined!
Every project benefits from our sustainable approach to landscaping. We design landscapes that will improve your local environment, and we are responsible with our landscaping materials. It is our pleasure to make Kissing Camels, Colorado and the surrounding areas a better place to live!
Attractive and Functional Landscapes Improve the Way You Live
Depend on Our Process to Help You Get the Landscape of Your Dreams
Our seven-step process focuses on your wishes for the outdoor space so you can enjoy a custom retreat just outside your backdoor.
Contact us by calling our front office or filling out our online contact form. We'll contact you within 24 hours.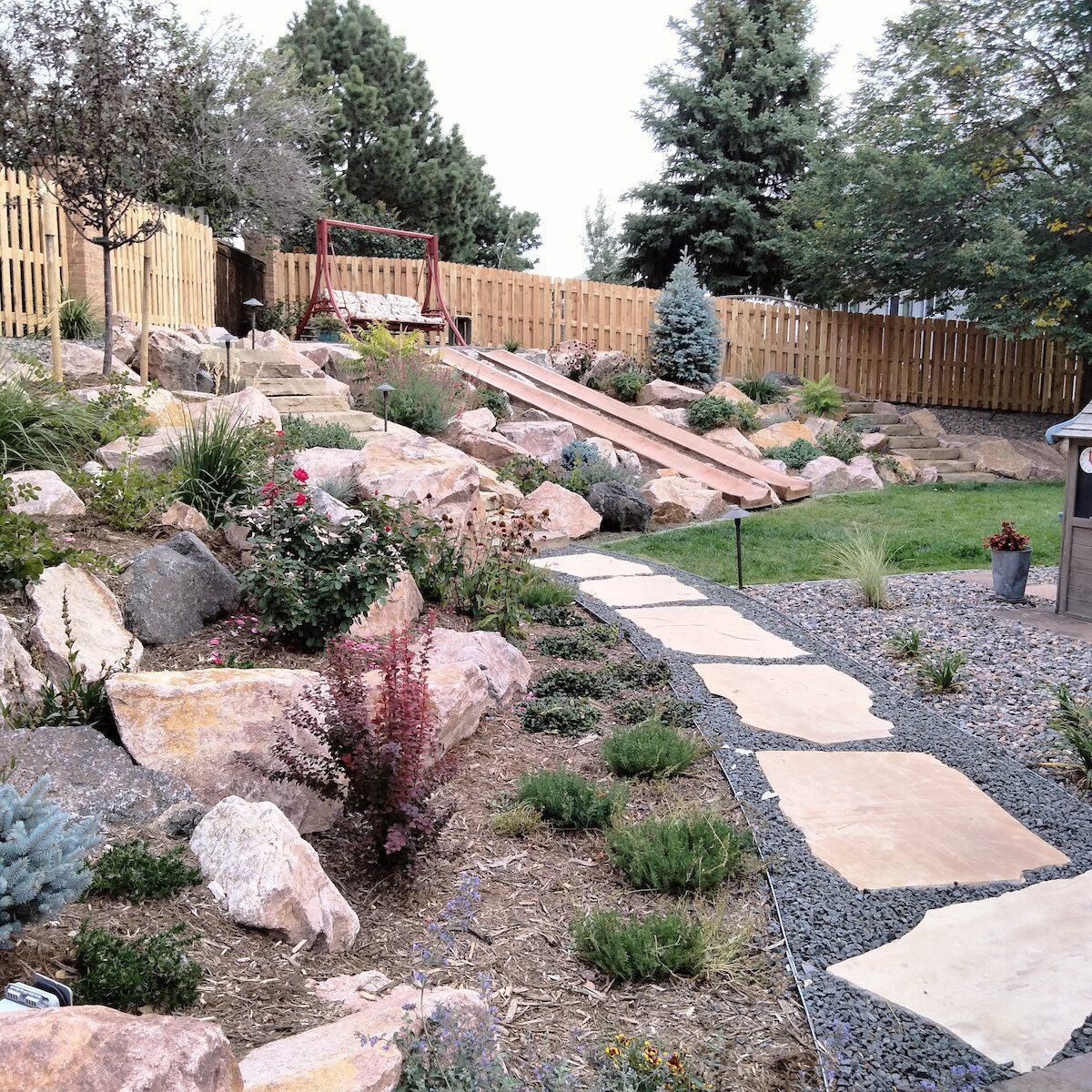 Our Expertise Extends to Our Full Range of Landscaping Services
Jake's Designs is the Kissing Camels area's most trusted landscape contractor. We are known for our exceptional customer service and our comprehensive start-to-finish process. Our award-winning team works with homeowners to deliver high-quality landscaping design and construction. Here are some of the other landscape design services we offer:
Retaining Walls — Colorado's challenging terrain sometimes requires the building of retaining walls. Jake's Designs uses state-of-the-art techniques to build retaining walls that are as beautiful as they are functional.
Landscape Drainage — Smart landscaping often includes finding solutions to property drainage issues. The experts at Jake's Designs are able to analyze and address potential problems with attractive results.
Landscape Lighting — Professionally-installed landscape lighting lets you take full advantage of your outdoor living spaces even after the sun goes down.
Check out more of what we have to offer on our services page. Let us know how we can help you meet your landscaping goals by contacting us today!
Apply for a Job on Our Professional Landscaping Team
At Jake's Designs, we're committed to delivering the highest quality services for homeowners in the Colorado Springs, Colorado area and surrounding neighborhoods. If you are looking for landscaping jobs and can commit to the highest quality and customer-focused culture, consider applying for one of our many opportunities!
To learn more, visit our careers page or contact us at (719) 271-2584.
Talk to an Experienced Landscape Designer About Your Outdoor Areas in Kissing Camels, CO
Your vision is important to us. We have the experience to make your dreams come alive with expert landscape design services. You can trust our landscape designer to suggest features and elements that will improve your home landscape, and we will always communicate our thoughts and ideas to you, so you understand every aspect of your personalized design. Our process is simple and streamlined, getting you results with less hassle. It all begins with you, so please contact us today by filling out our online form or calling our office. We look forward to getting to know you and beginning your landscape design in Kissing Camels, Colorado.
Ready To Get Started On Your Dream Landscape?